I was born and raised in Brisbane and I've been gardening for 25 years, I've been a qualified Arborist for 11 years and as the owner of North Brisbane Trees I've visited well over 20 000 homes in the Brisbane area. The following list contains declared weedy tree species that should be removed regardless and also contains tree species that haven't been declared as weeds but are can be extremely problematic when growing in the wrong location. So here's part 1 of our top 10 worst trees in Brisbane!
Cadaghi Tree (Corymbia Toerelliana)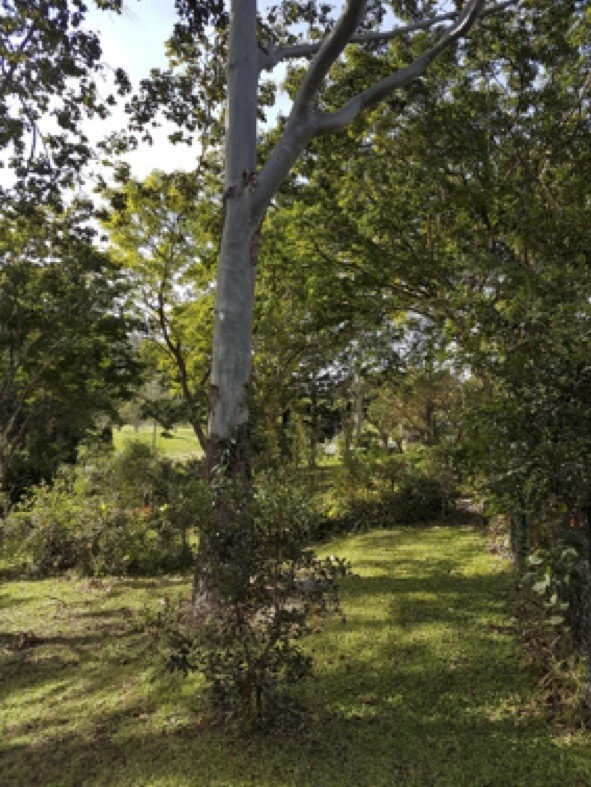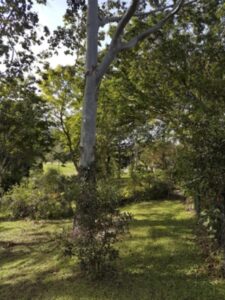 Coming in at number 10 is the Cadaghi. Native to Northern Queensland rainforests, the Cadaghi's can grow to be extremely large. The largest specimen I have seen was growing in a front yard at The Gap and would have been approx. 30m's tall with a trunk diameter of 1.3m and an estimated weight of 35 tonnes! Cadaghi's are listed on the Brisbane City Council website as a "Class R" (reduce populations). Aside from the sheer size that this tree can reach, I common complaint I hear from my customers is a black soot like substance that the tree produces which quickly coats whatever is underneath or even near the tree. A brand new timber deck or house roof will turn a shade of black within 12 months making this tree not especially popular.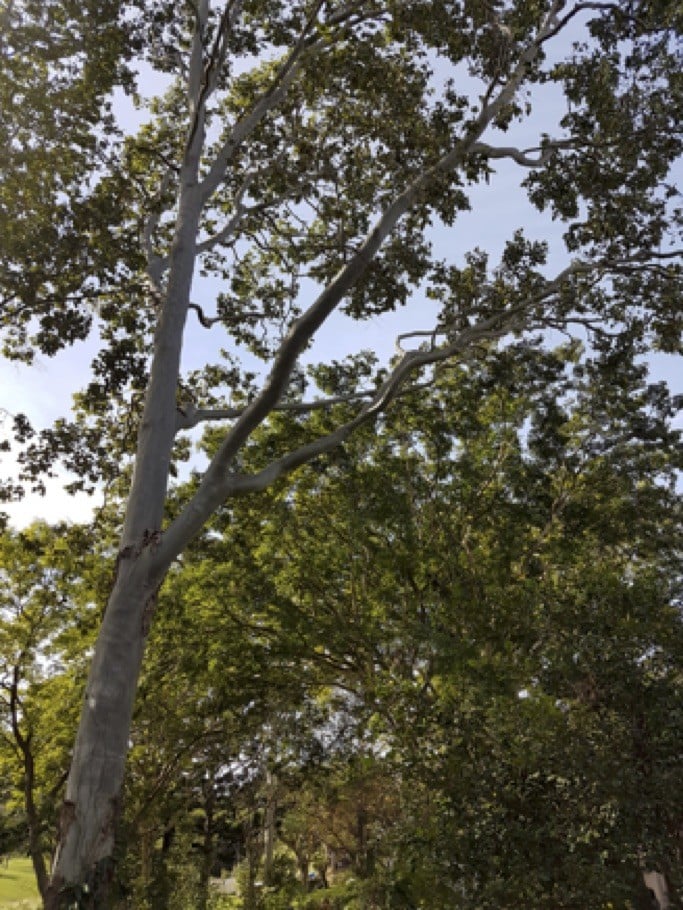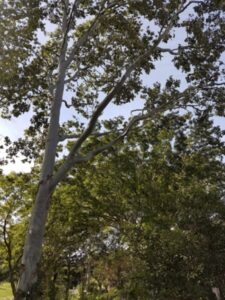 Yellow Oleander (Cascabela Thevetia)
Despite the Yellow Oleander being a declared Class R, it's inclusion here on my list will probably be a little contentious with some Oleander fans. While this relatively small growing tree will only rarely cause damage to property, the main reason I've included this species on my list due to it's weedy characteristics, readily self-propagating in many Brisbane yards and also the known fact that Oleanders are poisonous. Ingesting just 4 grams of this tree, be it the leaves, flower or sap and it could be fatal to a human adult and much less amounts could be fatal to children or small animals. With so many other comparable trees available in Brisbane's sub-tropical climate, why would you take the risk in keeping a poisonous tree in your garden?
Black Wattle (Acacia Leiocalyx)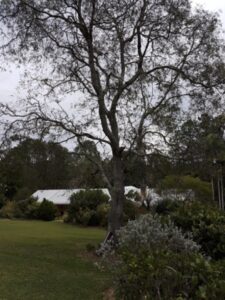 While the Black Wattle is not listed as a declared weed, I feel it's most definitely not a tree that you would want in your back yard or even on your 40 acre bush block. Here's why. If you were to clear 1 acre for example on a bush black in the Brisbane area I can guarantee you within 12 months this cleared area will be littered with Wattles and the reason this is undesirable is due to their extremely short lifespan. Most Black Wattles will only live to be approximately 20 years old and in this time can grow to be quite large. I've seen a Black Wattle that was 18metres tall with trunk diameter of about 1.2 metres (multi-stemmed trunk). So in 20 years time that 1 acre of cleared land will contain about 50 large dead trees, which is not at all attractive. If they were an especially beautiful tree you might choose to overlook their short life spans but as you'll see below they don't offer much aesthetically to the garden which is why they make my number 8.
Camphor Laurel (Cinnamomum Camphora)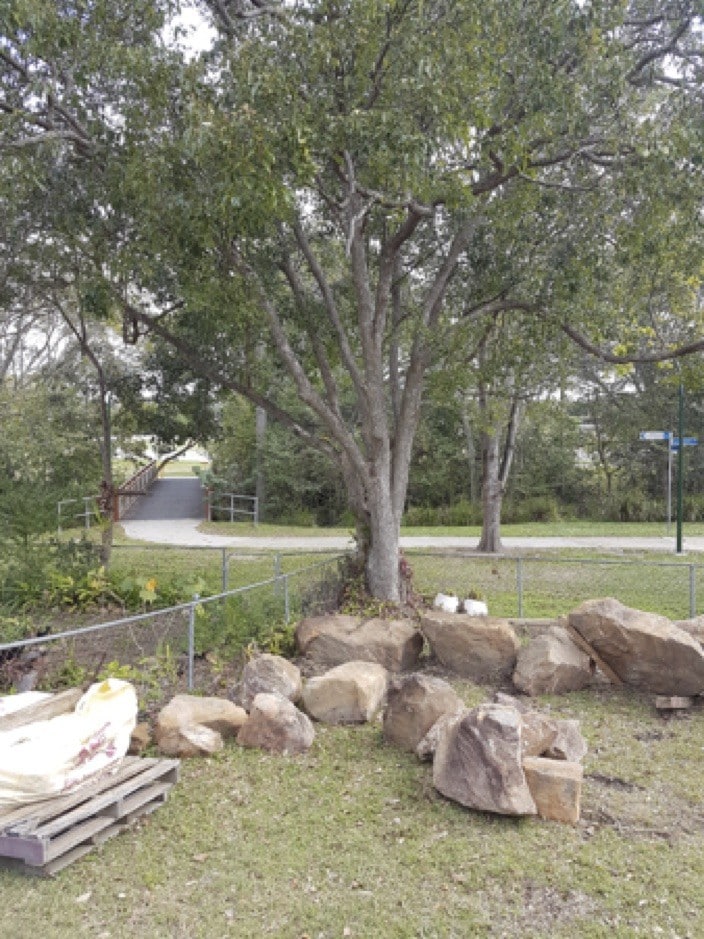 I'm actually quite a fan of the Camphor Laurel and not just for the amazing Vick Vapour Rub-esque smell they emit when you crush their leaves and saw through the timber. Some of the larger Camphor Laurels specimens in Brisbane are also some of the more beautiful and spectacular of all the species. This massive growing tree can reach fairly modest heights of 20metres with canopy spreads of up to 30 metres!! The largest one North Brisbane Trees has removed was monster growing over power lines at Deagon that had a trunk diameter of a whopping 2.1 metres! So why have I included this majestic tree in this list? Two reasons – 1) They grow to be massive! Their sheer size and the pushing power of their root systems lead to damaged retaining walls, driveways, house foundations, concrete paths etc. 2) Their weedy / self propagating characteristics. They are a declared Class 3 Noxious Weed – Category 3: the invasive plant must not be distributed either by sale or gift, or released into the environment.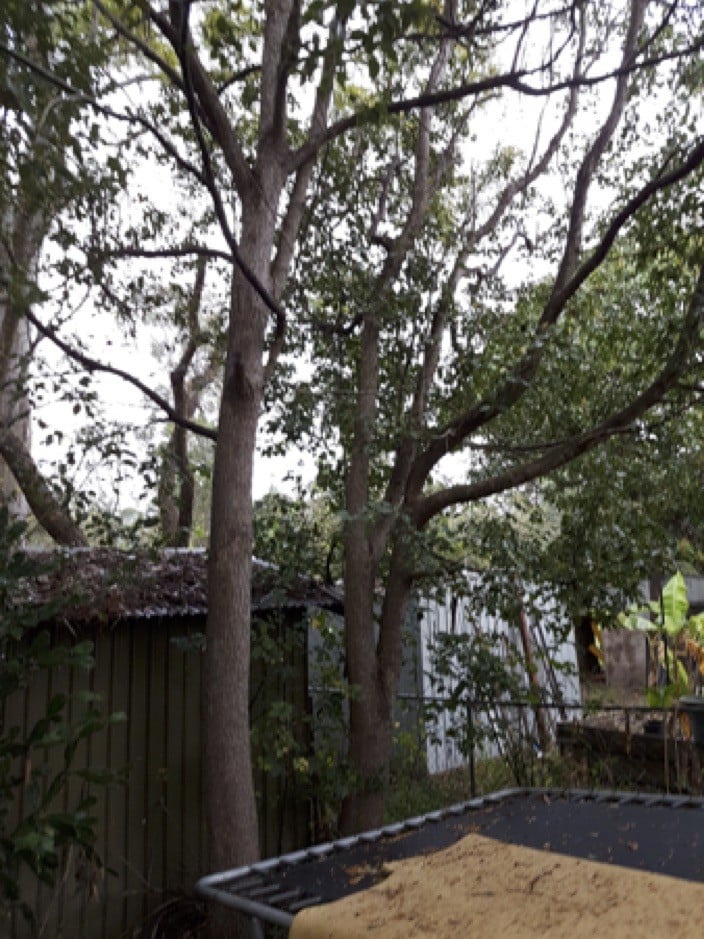 If you have a large block and plenty of space for your Camphor Laurel then that's fine but if you have a smaller block and you have a juvenile growing in your garden in the wrong location then the smart thing to do unfortunately is to remove the tree before it's grows too large as the bigger it gets the more destructive it becomes and the more expensive tree removal will be.
Umbrella Tree (Schefflera Actinophylla)
Many people adore this Class R declared tree and still today it's not uncommon to see them growing in pots. I had one growing in my garden for 5 years and I would always look forward to the arrival of the brightly coloured lorikeets that would always visit when the tree was in bloom. I made the decision to remove mine when I visited a customer in McDowall who was having issues with blocked storm water pipes. He had a Plumber attend and who discovered that the problem was tree roots in the pipe which of itself it entirely unremarkable. If you phone 10 plumbers and tell them your storm water pipes are blocked I can guarantee the first thing each one will ask if how close if your nearest tree to the pipes. What was amazing in the McDowall blocked pipe case was the fact that there were NO trees anywhere even remotely close to the blocked pipes. The property owner suspected a neighbours Crepe Myrtle that was about 10m's away and I advised that this was unlikely due to the distance and because Crepe Myrtles roots rarely go seeking water to this extent. I then noticed an Umbrella tree in the back corner of the property owners yard on the opposite side growing behind an old shed that was 19 metres from the pipe and I knew I had found the culprit. The property owner refused to believe that this 7 metre high tree located on 19metres away until I cut off a section of root and exposed some of the cambium and did the same with a tree branch from the Umbrella tree and asked the customer to smell both samples. The look on his face was priceless! I've since seen countless examples of Umbrella tree roots travelling huge distance to get to water. It's equally amazing and scary of what this tree is capable of. If you're a big fan of this species, plant it in a large, steel reinforced concrete pot!
So there you have it, part 1 of our series on the top 10 worst trees in Brisbane! Part 2 will have the other 5 undesirable trees in Brisbane that you need to get removed!
Update: March 2017: we finished off our list with part 2 of the top 10 worst trees to have in Brisbane. Call us on (07) 3289 3610 if you need a hand identifying and/or removing any of the trees in our list. Believe us, it will be 100% tree removal pleasure!