North Brisbane Trees has all the equipment necessary to tackle the largest of tree removals through to full scale land clearing. Expert service requires only the best equipment and we have the right gear for the job.
Our newest member to the truck fleet is our Isuzu 1000 with a 20m3 capacity chip bin. This truck has a hydraulically operated chip bin roof which allows us to load our A Grade Forest Mulch.
Our 300HP Iveco Truck is equipped with 4WD allowing us to go where our competitors can't.
We also have a 35 metre truck mounted crane which will lift 500 Kg at full extension and a whopping 50 tonne at 1m. It's in constant use hoisting tree limbs up and over obstacles and down to safety, including massive tree stumps weighing several tonnes directly into one of our tip trucks.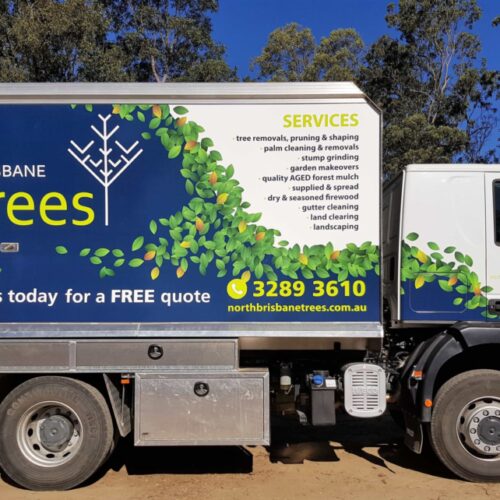 Alpine

Magnum
"The Alpine Magnum is a 10 horsepower machine designed for hard to access to stumps that larger machines are unable to get to.
Weighing in at only 40 kgs means that this machine can be picked up and carried by only one person to the stump for quick stump removal.
Stump

Humper
"The Stump Humper is an Australian made, 27 horsepower machine.
This machine has hydraulically driven drive wheels and weighs in at 220 kgs.
At only 29 inches wide, this machine will fit through even the narrowest gate.
This stump grinder will tackle medium to large tree and palm tree stumps with ease. Palm tree removal is a breeze with this machine!
Bandit

2900T
"The Bandit 2900T is one of Australia's largest stump grinders. This state of the art remote controlled, 2.7 tonne, 114 horse power, tracked machine will grind even the largest of stumps in a matter of minutes.
The turf friendly rubber tracks will retract down to only 35 inches wide, allowing the machine to fit through a standard size garden gate. This machine is designed for large tree and palm stump grinding and light land clearing operations.
So what does all this mean

for you, the client?
It means that we have the correct equipment to get your job done quicker and more efficiently than our competitors, meaning WE CHARGE YOU LESS!
Compare North Brisbane Trees with other providers and see why we are the only choice for any Brisbane tree service you need. Call for a free quote: (07) 3289 3610