BRISBANE'S BEST STUMP GRINDING SERVICES
Do you have a pesky tree stump causing an obstruction in your yard? We can help, with affordable and efficient stump grinding services. The North Brisbane Trees team has been removing unsightly tree stumps from properties around Brisbane for years.
We work with homeowners, business owners, local councils and government agencies to remove tree stumps from gardens, back yards, footpaths, park land, fields and public spaces.
Our team is highly trained and experienced, so you can be rest assured that we work safely and will leave no trace of your stump behind.
What is

Stump Grinding?
After tree removal, part of the stump remains. Stump grinding is the process of eliminating this piece with a stump grinder. This machine has powerful rotating blades that rip through the wood, cutting it into small pieces (wood chips).
The arborist guides the blades over the stump until it is ground down, well below ground level. The wood chips can be used as mulch around the garden and to fill in the hole left by the tree trunk.
Benefits of Stump Grinding
Tree stumps look unsightly and they can even be a hazard in your yard. The main benefits of stump grinding include:
Prevent re-growth. While you may think your tree stump is dead and lifeless, it can actually start to re-shoot.
Stop it from rotting. A rotting stump attracts fungus, termites and other creepy crawlies. These pests can pose a health risk to pets and kids.
Environmentally friendly. While you could pour chemicals onto your stump to get rid of it, these can seep into the surrounding soil and cause damage to the environment. Stump grinding is quick and chemical free.
Remove a trip hazard. If left, an unsightly tree stump can become a trip hazard.
Quick and efficient. Stump grinding is a fast process when done with the right, professional equipment.
Make space in your yard. Get rid of an ugly stump and make room to grow a new tree or beautiful plants.
Why Hire Our Stump

Grinding Services?
We are equipped with the latest stump grinding equipment and can deal with stumps large and small. Our rates are competitive and we can arrange to remove your stump at a time that is convenient to you.
Fully insured
Always on time
Extremely affordable
Friendly and polite
We clean up after ourselves
Trained and experienced
Quality workmanship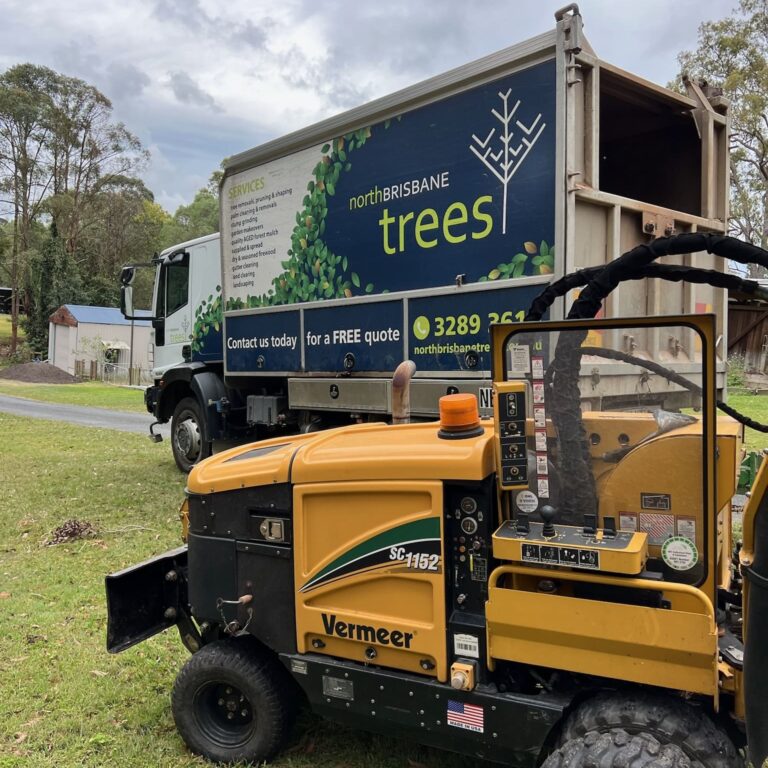 Fast and Affordable

Brisbane Stump Grinding
We guarantee you'll love out fast and affordable stump grinding services. Get rid of that unsightly stump and have more space to rejuvenate the garden. Removing tree stumps also improves your homes curb appeal and adds value to your property.
Stump grinding comes as part of our tree removal service. Or, if you just have a stump to get rid of – we're happy to do that for you. The ground down wood chips can be used as mulch in the garden, or as firewood, depending on the size of the stump removed.
Leading Brisbane

Stump Grinding Services
The North Brisbane Trees team are experts in tree removal, stump grinding and tree maintenance. We've been providing professional arborist services throughout Brisbane since 2007 and are proud to offer the highest quality workmanship that is fast and cost-effective. Our whole team is either Level 3 Arboriculture qualified or currently enrolled in their training.
Are you ready to get rid of an unsightly tree stump? Contact the North Brisbane Trees team today, on (07) 3289 3610, for a free, no-obligation quote.